DAEVID ALLEN PERFORMANCE SITE
SOUNDBITES 4 THA REVELATION 2012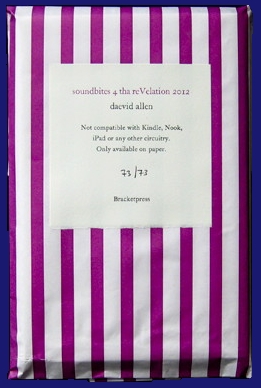 BOOK:
Poetry book coming out with a publishing press in the UK called BRACKET PRESS www.bracketpress.co.uk
Only available on paper - carefully printed, extremely limited collectors edition (73).
SOLD OUT NOW
The book's physical specifications: 129mm x 198mm, pp.80 (i–x, 1–70), digital web printed on Munken Premium Cream 80gsm. Casebound with Wibalin Amethyst over 2500 mic boards. Tipped in colour portrait, loose gold ribbon marker. Letterpress printed Hahnemühle Bugra Butten 130gsm wrapper, presented in purple and white candystripe bag with edition plate on front. Hand numbered edition of 73 copies.
CD ALBUM:
For more info about this album, including samples, see the Soundbites 4 tha reVelation micro-site.
Is it music? Is it poetry? Is it art? From one of the pioneers of psychedelic music and audio-collage comes an album that
re-defines the nature of music, poetry and sound-art. Firmly anchored in the present, this album reaches into the future.
Daevid Allen has always been a trail-blazer in the music and poetry worlds, be it through his bands Gong and University of Errors,
through earlier projects such as with Soft Machine, collaborations with William S. Burroughs and Terry Riley.
This album builds on his entire oeuvre and climbs even further. From pure spoken-word, through lush ballads to heavy industrial,
this album pushes the boundaries of convention in ways few have.